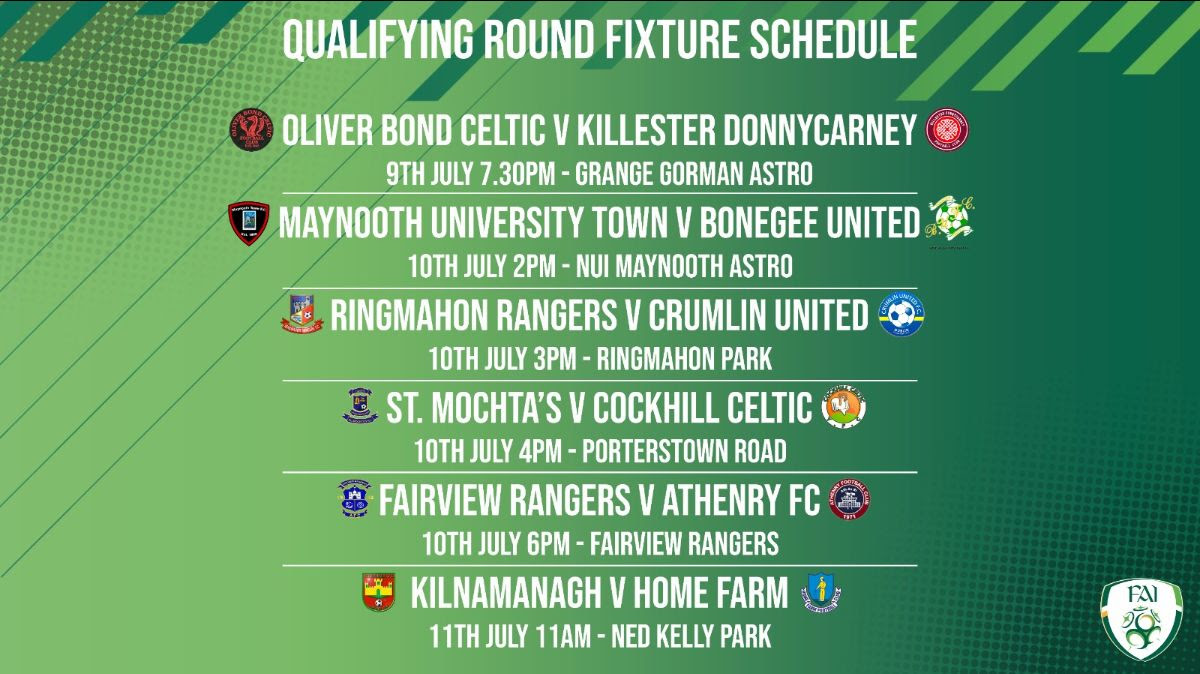 Ringmahon Rangers manager Aidan Foley hopes his players can use last year's FAI Intermediate Cup heart-break to inspire a spot in the first round of the FAI Cup. 

The Munster Senior League side are currently preparing to welcome Crumlin United to Ringmahon Park on Saturday, July 10, with kick-off at 3pm. It is one of six FAI Cup qualifying round fixtures with the winners set to gain a spot in the FAI Cup first round. 

Last year, Ringmahon Rangers suffered a 3-2 defeat in the semi-final of the FAI Intermediate Cup after they fell 3-0 down within the first half-hour. Ringmahon had come through a tough cup run to reach the semi-finals and boss Foley admitted it still hurts. 

"It does still play on the mind as it was a difficult result to take but we want to rectify this year. It hurt the club as a whole but, look, we've got to put that to the back of our minds and use it going forward," said Foley.

"It was difficult to watch the final knowing we could have been there. COVID has hit every club of course, but it would have been great for us to get there after such a difficult year.

"But look, we go again and we're fully focused."

Foley played for the club he now manages and was part of the Ringmahon side who reached the FAI Cup first round in 2004 where they played Bohemians. Despite the 8-0 defeat on the day, Foley still cherishes that memory and has implored his players to go and create their own memories on Saturday. 

"When I was a player, we played Bohemians in the cup and it is something I'll always remember. The competition will always be special, so hopefully we can achieve that this weekend," Foley continued.

"It would be huge to get into the next round and into the first round draw, it would be massive. We'd love to host a League of Ireland team down here. 

"We're focused on this weekend first though. It is a match which will give the club and the players a huge lift as we get back to football after the last year or so. The lads are absolutely buzzing to go.

"I've never heard of a bad Crumlin team and I'm sure it will be no different this year. We'd always raise our game against the Dublin clubs, we would anyways in these competitions, but against the high-profile teams, the players will relish the occasion."

FAI Cup – Qualifying Round Fixture Schedule

09/07 – Oliver Bond Celtic v Killester Donnycarney – 7.30pm, Grange Gorman Astro
10/07 – Maynooth University Town v Bonagee United – 2pm, NUI Maynooth Astro
10/07 – Ringmahon Rangers v Crumlin United – 3pm, Ringmahon Park
10/07 – St. Mochtas v Cockhill Celtic – 4pm, Porterstown Road
10/07 – Fairview Rangers v Athenry FC – 6pm, Fairview Rangers
11/07 – Kilnamanagh v Home Farm – 11am, Ned Kelly Park

Byes: Malahide United, Banger GGFC, St. Kevin's Boys, College Corinthians, Liffey Wanderers, Usher Celtic.